Writing area resources eyfs welfare
Our interior is designed in a bright, attractive, clean, warm and welcoming way, to make everyone feel comfortable and at home. Our furniture and equipment have been carefully chosen to be of high quality and age appropriate, allowing children to learn through the freedom of play and explore with the importance of safety in mind. In order to achieve this we aim to encourage the physical, intellectual, linguistic, emotional and social skills that children need to develop their self-esteem and confidence.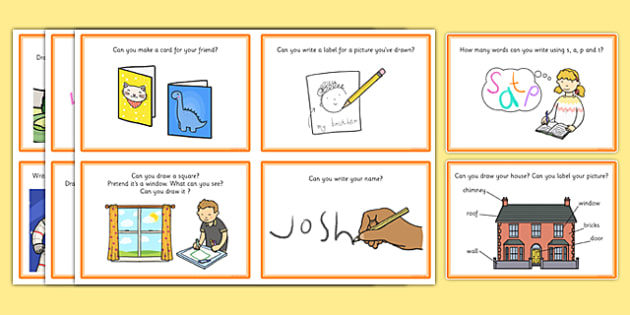 Grove Hall Nursery Ltd is an independent private day nursery for children aged 5 month to 5 years old. The Principal is responsible for all aspects of the Nursery and delegates certain duties to members of the staff.
Parents seeking a place for their child are asked to complete a Registration Form. Children will be considered for a place in the order in which their names were registered but priority will be given to children who will progress through the Nursery, siblings and children who are suitable for full time attendance.
Admission will be at the discretion of the Principal following a satisfactory interview with the parents and the child. We do not discriminate unfairly on grounds of sex, race or religion. At present we have limited facilities for children who have a disability or special educational needs.
Offer of a Place: A legally binding contract is made on the basis of these Conditions of Admission when we offer you a place for your child and you accept that offer.
It is a condition of acceptance that there is a non-refundable entrance fee.
Reporting of Injuries, Diseases and Dangerous Occurrences Regulations - RIDDOR - HSE
We need to be told in confidence of any known medical condition, health problem, allergy or suspected learning difficulty affecting your child. We also need to be told of any family history of a learning difficulty and any family circumstances or Court Order which may affect your child while in our care.
Nursery fees are payable by the 14th of each month or a late payment penalty charge will incur. Extras including outings and lunches and dinners should be paid in full.
A child may be excluded from the Nursery at any time when fees are unpaid.
ICO fines two firms over calls to TPS subscribers
Grove Hall Nursery Ltd reserves the right to charge a discretionary penalty fee for late or unpaid fees. No remission of fees will be made for absence due to sickness or any other cause except at the sole discretion of the Principal.
Fees also apply for festive and national holidays.
This change of attendance must be in effect two month prior before the holiday discount is applicable. Any change of attendance will be considered. Any change of attendance that is agreed will have to start the 1st of the month.
Published: Mon, 5 Dec From , child minders, nurseries, pre-schools and reception classes are required to pursue the Early Years Foundation Stage (EYFS), and . O ur Pre School facilities were opened in September Not only are the facilities and environment designed and furnished in compliance with EYFS and Welfare standards, we have taken into account the needs and interests of each individual child in our care. Mapping the Early Childhood Environment Rating Scale to the Early Years Foundation Stage (EYFS) The use of the Environment Rating Scales fully supports the EYFS
Over three months break, no place is kept and the child returns to the waiting list. Withdrawal from the Nursery: No other notice is valid.Frequently Asked Questions; Legal Intervention and Outcomes; A. Admissions School admissions and transfer guidance Absence and Attendance.
The UK's independent authority set up to uphold information rights in the public interest, promoting openness by public bodies and data privacy for individuals.
Course Title Description Format; 12 Hour EYFS Paediatric First Aid Course: The Paediatric first aid course is compliant with Ofsted and follows the required EYFS syllabus. Published: Tue, 02 May Primary education is the first stage of compulsory schooling. The primary phase is split into key stages one and two.
Key-Stage one is orchestrated for children years of age.
Health & Safety. At Cuckooz Nest we provide and maintain safe and healthy working conditions, equipment and systems of work for all our employees and a safe early learning environment in which children learn and are cared for. RIDDOR puts duties on employers, the self-employed and people in control of work premises (the Responsible Person) to report certain serious workplace accidents, occupational diseases and specified dangerous occurrences (near misses).